For over 30 years now, loyalty and transparency in our work have always been our objective. We strongly believe in the public interest; therefore, we are fully consumer-oriented and our mission is to provide full access to the cheapest and most environmentally friendly energy, i.e. natural gas. We respect the right of choice and are most anxious that our customers make informed decisions. We adhere to the principles of good commercial practices and accept market rules as an incentive for development.
We have invested over 320 million Euro in the construction of 2,400 km of distribution pipelines. We reached the homes of nearly 250,000 Bulgarian households. Every month we provide an energy alternative to over 60,000 families, over 3,000 manufacturing companies, hundreds of schools, kindergartens, hospitals and social institutions.
Natural gas has always been the most affordable energy for society. Together, more than two decades ago, we started the gasification story of Bulgaria, which with zeal and desire we, Overgas, and you, our friends and partners, will continue to write. Together, we traveled the long and thorny path of changing the status quo and building a functional energy market. Because we have always advocated the right of choice. Because we are on your side. Because we are alike.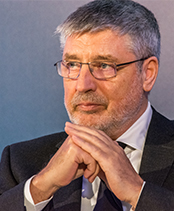 Sasho Donchev
Founder of Overgas
In June 1991, together with several of his colleagues, he founded Overgas OOD. In 1992, he created Overgas Inc. AD, and at the time of incorporation was elected Deputy Chairman of the Board of Directors and CEO of the company. He held the position of CEO until 2021.
Under his leadership, the
Bulgarian Cities Gasification Project
was developed and implemented.
He is the author of more than 30 scientific and engineering development papers published in Bulgaria, Russia, USA, Germany, Austria, Syria and Libya.
From 2007 to 2018, Sasho Dontchev was Chairman of the Bulgarian Natural Gas Association (BNGA). In two consecutive terms (2011-2018) he was also Chairman of the Bulgarian Industrial Association (BIA).
He represents the Bulgarian gas sector in the Council of the International Gas Union.
He was awarded the title of Honorary Member and the Golden Award of the Ecoforum for Sustainable Development World Movement; he is a recipient of the Order of Saint Sergius of Radonezh III degree of the Russian Orthodox Church.
Sasho Dontchev is the publisher of SEGA information website; he is a member of the Union of Publishers in Bulgaria. His successfully realized project in the field of education is Balgarsko Shkolo educational complex.
Before he founded Overgas, from 1978 to 1991, he worked at Gazstroymontazh. He held the positions of technical manager, designer, specialist in the Foreign Trade Department, head of the Russia-Turkey Transit Gas Pipeline site. Later, he became the director of the Construction and Installation Department of the construction of the Tula-Shostka-Kyiv main gas pipeline.
Sasho Dontchev graduated I. М. Gubkin Russian State University of Oil and Gas summa cum laude with a degree in Construction of Gas Pipelines, Gas Storage Facilities and Oil Depots, and the University of National and World Economy in Sofia with a degree in Foreign Economic Relations. He speaks Russian, English and Polish.