"Overgas Engineering" AD is the first engineering company in Bulgaria's gas sector. It is a regular member of Iploca, the international association of the world's leading companies involved in design and construction of pipelines, and transportation of natural gas, oil and petroleum products, based in Switzerland.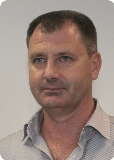 Plamen Donchev
CEO
Professional development

After serving as an officer at Bezmer Aviobase, he has been working at Overgas in 1991. He participated in the establishment of the administrative and management processes at Overgas Inc. AD and Overgas Holding AD. He administered projects related to the development of young people through education and sport. He has led some of the stages of construction and commissioning of the "Bulgarian Shkolo" Academic Complex. He is a member of the Boards of Directors of several companies within the structure of Overgas Holding AD.
Education

He graduated from the Staff Officer Profile at the Higher Air Force School "Georgi Benkovski", Dolna Mitropolia.

Later on, at the New Bulgarian University, he defended his Master's thesis "EU Energy Security at the Beginning of 21 century", and from 2014 he has Ph.D. in Energy Security at the same university. He speaks English and Russian.