"Overgas Service" AD offers diagnostics of gas pipelines, maintenance of facilities and metrological support for measurement instruments. The company aims to ensure a continuity of gas supply and gas safety of networks under competitive conditions.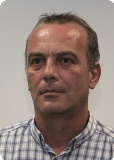 Todor Marinov
CEO
Professional Development

Todor Georgiev Marinov became part of the Overgas family in 1998 as Chief Equipment Specialist at Overgas Inc. AD. From the beginning to mid-2006, he worked as the Head of the Metrological Control Department at Gastec BG AD. From July 2007 until the present, he is the Director of Overgas Service AD. His professional development begins at the National Metrology Center as an Expert on Income and Expenditure and Head of the Department entrusted to him (1993-1998).
Education

Todor Marinov has a higher technical education from the Technical University in Sofia, with Master's degree in Hydro and Pneumotechnics and academic degree in Mechanical Engineering, and an additional qualification in the field of metrology and quality management systems.